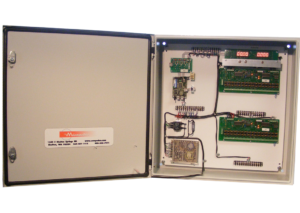 The CompuDAS® Model CPM-16 is a low cost self-contained unit for process monitoring that has 16 independent analog inputs. Inputs may be a combination of thermocouples, RTD's, pressure transducers or almost any voltage or current based sensors. Expansion boards may be remote from the base unit for SCADA applications.
The basic CPM-16 system is a desktop unit and includes one 16 channel Analog Input Card, Front Panel Display and Switches and one Single Board Computer with built-in solid state Hard Drive that can store over three million readings even if the operator PC is "off-line". Additional storage is available. All stored files are Excel compatible. The CPM-16 provides high-speed, low cost communication utilizing our friendly Windows Based Software, and Ethernet connectivity which allows multiple PC's to view and access data simultaneously.
Features:
Front Panel Process Display
Multi-Channel – 16 Channels
Per Channel Engineering Unit Scaling and Calibration.
Remote Connectivity.
Windows based Interface and Ethernet compatible.
Paperless Recording – Excel Compatible Files.
Solid State Hard Drive.
Auto Start/Stop Logging.
Alarm Input/Output for each channel.
Direct Thermocouple Connectivity.
Display is selectable by channel and/or by card.
Graphical User Interface Features
Process monitoring setup.
Real-time viewing of current process inputs including minimums and maximums.
Real-time graphing of 8 process inputs (printable).
Start/Stop and limit reset control.
Data transfer to operator PC's or user network.
Display selectable by channel and/or card
Operator PC Requirements
Windows 2000, XP, Vista, and Windows 10 operating systems.
Printer for real-time graph and record printing.
Physical Characteristics
Desk top unit is 13.5" wide, 11" deep and 3.5" high.
4-digit LED display.
Switch selection of channel and/or card.
Logger start/stop switch.
Support and Training
Support and Training
Extended factory support and training is available via telephone and/or the internet. Our trained engineers and representatives are available to help with individual installations and applications with immediate response to reduce critical down-time.
CPM-16 Images and Screenshots
More Information
Contact us for more information or get the FREE CompuDAS Full Technical Factsheet to your inbox – just enter your email below.  (Yes, we'll send you the occasional email about updates or our new products, but you can always unsubscribe.)
Critical Process Monitor CPM-16 Applications
Autoclave Process Control
All General Industrial autoclaves
Composites autoclaves
Glass laminating autoclaves
Wood autoclaves
Vulcanizer autoclaves
Dewaxing autoclaves
Nuclear autoclaves
Autoclaved aerated concrete (AAC) autoclaves
Aerospace autoclaves
Glass autoclaves
Ballistics autoclaves
Concrete autoclaves
Automotive autoclaves
Investment casting autoclaves
Rubber vulcanizing autoclaves
Rubber products autoclaves
Pressure treated wood autoclaves
Sterilization autoclaves
Manufacturing autoclaves
Composites curing autoclaves
Structural adhesive bonding autoclaves
Lost-wax casting autoclaves
Curing autoclaves
Waste products autoclaves
Oven Process Control
Benchtop Ovens
Cabinet Ovens
Annealing Ovens
Composite Curing Ovens
Heat Treating
Laboratory Ovens
Sterilizing Ovens
Burn-in Ovens
Test Ovens
Curing Ovens
Drying Ovens
Baking Ovens
Reflow Ovens
Batch Ovens
Walk-in Ovens
Truck-in Ovens
Conveyor Ovens
Continuous Ovens
Clean room Ovens
Press Production Control
All General Industrial Presses
Industrial Bench Press
Industrial Open-back inclinable Press
Industrial Gap-frame Press
Industrial Adjustable-bed horn Press
Industrial End-wheel Press
Industrial Arch-frame Press
Industrial Straight-side Press
Industrial Reducing Press
Industrial Knuckle-lever Press
Industrial Toggle-draw Press
Industrial Cam-drawing Press
Industrial Two-point single-action Press
Industrial High-production Press
Industrial Dieing machine Press
Industrial Transfer Press
Industrial Flat-edge trimming Press
Industrial Hydraulic Press
Industrial Press brake Press
Industrial Machine Press
Industrial Aerospace Press
Industrial Metalforming Press
Industrial Rubber Press
Industrial Plastic
Industrial composite Press
Industrial Wood Press
Industrial Laminate Press
Industrial Metalforming Press
Industrial Materials Press
Industrial Electronics Press
Industrial Healthcare Press
Industrial Energy Press
Industrial Transportation Press
Industrial Solar Press
Industrial Carbon Fiber Press
Industrial Automotive Press